Vinay Chadha is the finance director of a fitness company, and exercise has always been important to him. But when the pandemic hit New York City this past March, the 37-year-old found his activities drastically curtailed—first when he fell ill with COVID-19, then by the statewide shelter-in- place order. "It was very difficult for me, emotionally and mentally, through a lot of it, especially early on," says Chadha, who lives alone near Manhattan's Union Square. "I think two months went by where I didn't see one person, in person, at all."
Once he recovered from COVID, Chadha yearned to return to his fitness routine. With gyms closed, masked runs along the East River became his most important outlet. "I was a little bit slower," he says. "But after the 14 days of isolation, I ran seven miles. I don't know if it was just the adrenaline or that I wanted to get out of the apartment so badly."
Chadha is not alone in finding that the novel coronavirus social distancing and shelter-in-place orders make staying sane and healthy more difficult, even beyond the threat of the virus itself. New York City may have emerged from the worst of its struggle against COVID-19, but the global pandemic is far from over. Weill Cornell Medicine clinicians and patients have had to revise fitness routines, catch up with delayed screenings and vaccinations, and work to keep each other safe, whether by taking appointments virtual or following new protocols for office visits. And as they adapt to a changed world, they're finding that medicine and wellness look different than they once did—and that healthcare and self-care may require new forms of creativity.
Staying Fit
Chadha needed to run, but he found that it exacerbated a long-standing knee issue—and the pain threatened to keep him indoors. For relief, he turned to Dr. Jaspal Ricky Singh, vice chair and associate professor of clinical rehabilitation medicine at Weill Cornell Medicine and co-director of the Weill Cornell Center for Comprehensive Spine Care, who had been treating Chadha since he tore his knee's anterior cruciate ligament in 2016. While at the time Dr. Singh's in-person clinic hours were limited to emergency appointments once a week, the pain and sports medicine specialist—like many of his Weill Cornell Medicine colleagues—made himself available to patients via telemedicine appointments, text messages and phone calls, helping them figure out ways to mitigate pain and avoid weight gain even as gyms and rehab centers were closed.
For some who were recovering from injuries, walking the hallways of their apartment buildings was enough, while for others Dr. Singh devised routines of jumping jacks and pushups they could do in their living rooms. One arthritis patient in his late 50s had previously enjoyed spin classes at a local gym; with that option gone during the shutdown, he wasn't sure how to get aerobic exercise safely. Dr. Singh asked the man to walk up the stairs in his apartment building once a day. "It wasn't his ideal," Dr. Singh says, "but as he got used to it, he actually noticed his legs were getting stronger, and the stability in his core was getting better."
When the pandemic shutdown began, many New Yorkers—unaware back in March of how long it would last—treated the first several weeks as a "vacation" from exercise. But as time has passed, Dr. Singh has found that his patients are becoming more accepting of alternative fitness approaches. "They've realized that COVID is not ending anytime soon," he says, "so they've got to strategize and compromise on things that they can do." Dr. Singh taught Chadha exercises he could do in his apartment to strengthen his leg and help him tolerate the pain; they helped him get through the next several months of shutdown, and Chadha is confident that his fitness routine will help him stay physically and mentally fit as the pandemic continues. "He knew being able to get out there and stay fit was important to me," Chadha says.
Keeping Up With Care
Self-care may be crucial during the COVID-19 pandemic, but that doesn't mean it's a substitute for healthcare. So in addition to sharing advice for staying well at home, Weill Cornell Medicine practitioners are actively urging their patients to resume their pre-pandemic schedules of routine screenings and checkups. "Preventive care has fallen to the wayside," says Dr. Rachel Smerd, an assistant professor of medicine at Weill Cornell Medicine and an internist at NewYork-Presbyterian/Weill Cornell Medical Center. "We are seeing delays in screening tests like colonoscopies and mammograms. We're telling everyone now, 'Go see your doctor and make sure you're up to date.'"
That counsel applies to patients of all ages—but pediatricians are especially concerned that children may miss scheduled vaccinations. "Putting them off can cause an outbreak of a vaccine-preventable illness, such as measles," explains Dr. Jane Nestler, an instructor in pediatrics at Weill Cornell Medicine and a pediatrician at NewYork-Presbyterian/Weill Cornell Medical Center. "Children are still at risk of contracting these illnesses even if they aren't in school or daycare. And a key thing to remember is that vaccines don't only protect the child who's getting them; they also protect those who are unable to receive them, such as newborns or people with suppressed or compromised immune systems."
Beyond vaccines, Dr. Nestler urges parents to make sure that they are keeping up with regular well-child visits, including hearing and vision screenings and physicals. "It's especially important for children under age two or three to be seen frequently, to monitor their developmental milestones," Dr. Nestler says, explaining that the earlier that developmental delays or autism spectrum disorders are detected, the more effective interventions may be. And for older children, routine visits to the pediatrician often include mental health evaluations—something that Dr. Nestler has found to be especially crucial during these stressful times. "Many mental health problems are going undetected, which is another important reason why well-childcare is so vital," she says. "Children might not feel comfortable bringing it up to their parents, but if the doctor is concerned about their demeanor or behavior during a visit, they could refer them to a therapist or psychiatrist."
And while patients and their families may still worry that visiting hospitals and doctors' offices puts them at risk of contracting COVID-19, primary care clinicians stress that patients can look for preventive measures many healthcare facilities have adopted to keep patients and personnel safe, including offering COVID vaccines to clinical staff. In such spaces, "there are a lot of levels of security," Dr. Smerd says. "Everyone's wearing a mask, and there's usually a tool to screen for symptoms. The buildings have their own cleaning protocols; in our practice, there's somebody walking around all day, cleaning the high-touch places. If somebody's showing symptoms, those exam rooms are not used again that day. But just to be safe, we assume everybody does have asymptomatic COVID."
At Weill Cornell Medicine, in addition to resuming in-person appointments, clinicians are continuing to see patients via telemedicine—which became a vital resource during the height of the pandemic, for both emergency medicine and primary care. Weill Cornell Medicine's Digital Health Services reported an unprecedented 10,000 primary care appointments per week last spring—and although physical offices have reopened, between 6,000 and 7,000 patients a week still take advantage of virtual visits.
Weill Cornell Medicine physicians began experimenting with telemedicine about five years ago. This year, says Dr. Jonathan St. George, it has emerged as a vital resource. "COVID changed everything," says Dr. St. George, an assistant professor of clinical emergency medicine at Weill Cornell Medicine and an attending physician in the ED at NewYork-Presbyterian/Weill Cornell Medical Center. "Forget the convenience; it became a safety issue and a care issue. And patients really took to it. They understood that during the surge, the hospital became a place that was really for the sickest patients." Dr. St. George acknowledges that with telemedicine, there is a learning curve for both doctor and patient. Physicians, for their part, have had to learn alternative methods of conducting physical exams. "You have to ask your patient to cooperate with you in new ways to be able to get the information you need," he says. "I can't feel their pulse, for example, so I might ask them to do it themselves, and I'll have to walk them through the process. It just requires a different methodology, and doctors need to train to do it effectively."
Healthy Habits
Besides complicating exercise and medical care, the pandemic has also made it harder for many people to make healthy eating choices. Janet Lau, a clinical outpatient dietitian at Weill Cornell Medicine's Center for Integrative Health and Wellbeing, found that many of those she works with struggled in the early weeks of the shutdown. "Everybody was just figuring things out at that point," she says. "People were staying in more and lots of restaurants were closed, so they were left to their own devices and needed to cook more. Some were actually eating healthier because suddenly they had the time, but on the other end of the spectrum there was a lot of emotional eating. People definitely had that weight gain—the 'COVID 15.'"
As patients have returned to the center, Lau, who often works in partnership with a physician, has been helping them plan meals and build structure into their days so they don't lose control of their eating habits. But nutrition isn't just about balancing proteins, starches and vegetables, Lau stresses; there is also a psychological component. "You can look at what's happening now as a horrific situation that's taking you out of your norm and into a really dark place," she says. "Or you can look at it as a positive challenge and start thinking about cooking in terms of, 'What spices have I missed out on? What's a new food that I haven't tried? What do I have time to consider now, that I never had time for before? How can I make sure my kids are eating healthier versus what they may have been served at school or when they are with their peers?' You can say to yourself, 'This is a time for self-care, a time to get in tune with what I and my family need to do to get healthy.'"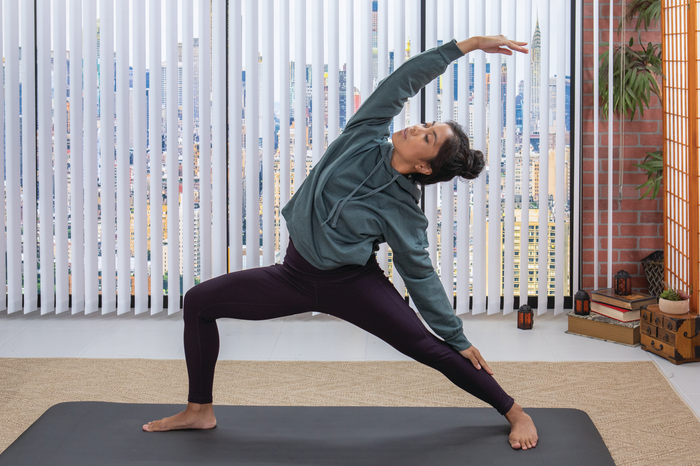 — Amy Crawford
This story first appeared in Weill Cornell Medicine, Winter 2021