Mayor Bloomberg Helps Dedicate Award-Winning Center and Cites Significant Contributions of Benefactors Sanford Weill and Maurice Greenberg; Proclaims January 26 as "Weill Cornell Medical College Day"
First Clinical Building in Weill Cornell's 109-Year History Reflects Success of Advancing the Clinical Mission Capital Campaign, and Momentum for New $1.3 Billion Discoveries That Make a Difference Drive
Exterior of the Weill Greenberg Center, a new 330,000 square foot ambulatory care facility at Weill Cornell Medical College.
NEW YORK (January 26, 2007) — Weill Cornell Medical College today officially opened and dedicated its new Ambulatory Care and Medical Education Building and announced that the innovative, award-winning clinical building is being named to honor long-standing benefactors Sanford I. Weill and Maurice R. Greenberg. The unique 13-story, 330,000-square-foot Weill Greenberg Center will serve as the new focus for patient care and education at the Medical College's campus and provide a state-of-the-art health-care resource for the people of New York, the region and beyond.
"I am deeply honored that from this day forward, this beautiful building will bear the name, Weill Greenberg Center, honoring distinguished benefactors Joan and Sanford Weill and Corinne and Maurice Greenberg. This splendid Center is the physical manifestation of the Weill Cornell vision in action," said Dr. Antonio M. Gotto Jr., Stephen and Suzanne Weiss Dean of Weill Cornell Medical College. "In this extraordinary place, Weill Cornell will fulfill its mission by delivering outstanding patient care, providing progressive training for the next generation of physicians and supporting cutting-edge translational research. Thanks to the generosity of our donors and friends, our esteemed physicians and scientists, our government and civic leaders, we are ushering in a new era of patient care as we open the doors to this unparalleled facility."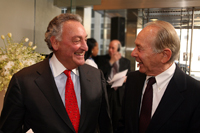 Sanford I. Weill, chairman, Board of Overseers, Weill Cornell Medical College with Maurice R. Greenberg, member of the Weill Cornell Board of Overseers.
The Weill Greenberg Center, located at 1305 York Avenue at East 70th Street, will also serve as a distinctive new flagship building for Cornell University in New York City. "All Cornellians can be proud to have this jewel of a building represent the University's presence in New York City," commented Cornell University President David J. Skorton. "It embodies the essence of Cornell — reaching for and achieving the highest standards in patient care, teaching and research."
The building consolidates a variety of clinical programs under one roof and reflects the latest advances in patient-centered health-care design, noted Dr. Herbert Pardes, president and CEO of NewYork-Presbyterian Hospital, the Medical College's chief clinical partner. "This is another example of the strength of the partnership between NewYork-Presbyterian and Weill Cornell. The Weill Greenberg Center reflects what 21st century health care should be — coordinated, convenient and comforting for the patient. We know that patients and their families are going to feel superbly cared for in this environment."
"Today marks an historic occasion," said Sanford I. Weill, chairman of the Weill Cornell Medical College Board of Overseers. "This pace-setting Center, the first clinical building in Weill Cornell's 109-year history, will not only serve as a model for the coordinated delivery of superior health-care services, but it is also breaking new ground in medical education. The building houses an advanced teaching center that simulates a realistic clinical environment so that medical students can learn how to interact compassionately and effectively with patients. This is an exciting time for all of us associated with Weill Cornell as we continue to strive to be the best clinical and medical research center in the world."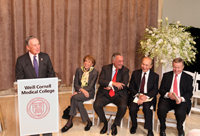 NYC Mayor Michael Bloomberg presents a mayoral proclamation naming January 26 "Weill Cornell Medical College Day" to Joan Weill, Sanford I. Weill, Maurice R. Greenberg and Dr. Antonio Gotto, dean, Weill Cornell Medical College.
"This building will play a key role in advancing Weill Cornell's research mission," noted Maurice R. Greenberg, member of Weill Cornell's Board of Overseers. "By placing our physician-scientists closer to the delivery of clinical care, the Center will facilitate the kind of collaborative clinical research that leads to medical breakthroughs and improved patient care. I hope that when the thousands of patients who will be treated here this year are homeward bound, they will reflect on a health-care experience unlike any other — a warm and comfortable facility that's easy to navigate; a caring and efficient staff; and, of course, physicians who are second to none."
Corinne and Maurice Greenberg have generously supported both Weill Cornell and NewYork-Presbyterian Hospital/Weill Cornell Medical Center for more than 25 years, greatly advancing the Medical Center's missions in patient care, education, and basic and clinical research. Among their many significant contributions that have helped build the stellar reputation and pre-eminence of the Medical Center, are the Hospital's new inpatient Greenberg Pavilion, C.V. Starr Pavilion, C.V. Starr Biomedical Information Center, Greenberg Center for the Study of Hepatitis C, and support for the Genetic Medicine Program, the Division of Cardiology, the Division of Geriatrics, faculty recruitments and endowed student scholarships.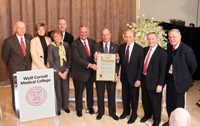 From left: Peter Meinig, Chairman of the Board of Trustees, Cornell University and member of the Board of Overseers, Weill Cornell Medical College; Dr. Robin Davisson; Joan Weill; Dr. David J. Skorton, president, Cornell University; Sanford I. Weill, chairman, Board of Overseers of Weill Cornell Medical College; the Hon. Michael Bloomberg, mayor of New York City; Maurice R. Greenberg, member of the Weill Cornell Board of Overseers; Dr. Antonio M. Gotto Jr., dean, Weill Cornell Medical College; Dr. Herbert Pardes, president and CEO, NewYork-Presbyterian Hospital.
Photos by Richard Lobell.
Mayor Michael Bloomberg hailed the new Center as "a signature building for the City of New York and a tremendous new health-care resource for our citizens. It will build on the significant contribution that the health-care sector already makes to our City's economy, providing a source of excellent jobs and serving as an economic stimulus. Thanks to contributions from friends such as Sandy and Hank, this new Center is a huge plus for New York's health — both physically and economically. It will play an integral role in our efforts to improve the health of all New Yorkers."
In his official Proclamation, the Mayor recognized the historic nature of the occasion by proclaiming "January 26, 2007 in the City of New York as 'Weill Cornell Medical College Day.'" He expressed special gratitude to Maurice Greenberg and Sanford Weill, saluting them for their "extraordinary generosity and dedication to improving the community."
"This new building is the culmination of Phase 2 of Weill Cornell's Strategic Plan:
Advancing the Clinical Mission
, and it is also a powerful symbol of our momentum as we move forward with our current Phase 3 research-oriented campaign," observed Robert Appel, chair of Weill Cornell's $1.3 billion
Discoveries That Make a Difference
capital campaign launched in October 2006. "It is fitting that this extraordinary clinical building is located adjacent to the site of the planned Biomedical Research Building that is the centerpiece of our Phase 3 campaign. Working literally side by side, our physician-scientists will have the opportunity to collaborate on bold new discoveries that will advance the health of people throughout the New York area, the U.S. and the world. Weill Cornell is delivering on its promise to play a leadership role in shaping the future of medicine."
About the Weill Greenberg Center of Weill Cornell Medical College
Patient Amenities
As part of its philosophy of patient-centered design, the building offers an array of special amenities not commonly found in health-care institutions. The total experience of visiting the doctor will be more streamlined, seamless and efficient — from scheduling an appointment to locating the doctor's office; the doctor's visit itself; and any follow-up care. Health-care professionals will be on hand to help patients every step of the way.
A central feature of the new building is the Myra Mahon Patient Resource Center. Located at the top of the escalators from the entrance lobby, the Resource Center offers a comfortable, spacious place for patients and families to rest between appointments and browse through medical information in one of its lounges, on a computer workstation or in the Health Education Library. The Center will also host health education seminars that will be free and open to the general public.
Consolidated Practices
Key clinical programs — such as cardiology, dermatology, ophthalmology, gastroenterology, pain management, multiple sclerosis, IVF, ENT and radiology — have been expanded and housed in this new building, thus offering most patients the clinical convenience of "one-stop shopping."
Medical Education and Research
Designed to meet the requirements of contemporary medical schools, the building offers medical students first-class facilities and firsthand experiences observing and participating in real-life medical situations. The building features an innovative Clinical Skills Center, a 10,500-square-foot, state-of-the-art teaching facility in which students can practice clinical skills in a controlled environment with standardized "actor-patients," and begin training in patient interactions early in their education. A self-study lab makes available virtual-reality technology and computer-controlled mannequins simulating various conditions in order to allow students to work individually on a range of medical procedures.
The new building will also foster opportunities for scientific collaboration among the Medical College's researchers by providing them with additional space and the latest technology in genetic medicine and computational biology. Occupying the 13th floor, the new, multidisciplinary HRH Prince Alwaleed Bin Talal Bin Abdulaziz Al-Saud Institute for Computational Biomedicine (ICB) specializes in the development of research technologies employing mathematical models, physics and high-speed computing to analyze tremendous volumes of scientific data to test hypotheses about the structure and function of the human body, and search for clues to its mysteries. Unique among its peers for the integration of genomic and cellular data with a broad, systematic approach to medicine, the ICB facilitates the translation of new discoveries into clinical therapies. For example, computational biomedicine has allowed investigators literally to see the pathway between a genetic mutation and the medical condition it causes, and made possible other important discoveries that never before lay within the reach of human knowledge. The ICB also houses an innovative computer-assisted virtual environment, known as the Immersion Visualization System (IVS). In this virtual-reality theater, physicians and scientists can visualize in three dimensions the computer-generated representations of molecules, cells and organs.
The ICB also serves as a base for education and training of faculty and students at Weill Cornell Medical College and Graduate School of Medical Sciences. A key part of its mission is to develop a new generation of scientists rigorously trained in the core areas of bioinformatics and computational sciences as they relate to medicine.
Design
Guided by the principle that the building's design is integral to the healing process, architectural features have been carefully selected to maximize patient well-being. Reflective pools, cascading water features and still-water images accent the building's public spaces, and vast window walls with special fritted exterior glass allow soft light to permeate the interior, yet preserve patient privacy. Interior design details — such as the color of the woods, the texture of the fabrics and walls, and the color scheme — have all been carefully chosen to complement the soothing, patient-friendly environment.
Architecture and Construction — "Best of 2006 Award"
The Weill Greenberg Center was designed by Polshek Partnership Architects and Ballinger, a 140-person firm known for architectural excellence and innovative design, and for its longstanding commitment to cultural, educational, governmental and scientific institutions. The new building, with its gently sloped vertical surfaces, reflects the gothic motif of the original New York Hospital-Cornell Medical Center across York Avenue, while its luminous veil suggests a new direction for health care: elegant, inviting and unexpectedly refined. Among other New York projects, Polshek is responsible for the Carnegie Hall Renovation, the American Museum of Natural History's Rose Center for Earth and Space, and the Brooklyn Museum of Art Renovation and Expansion.
In December 2006, the Weill Greenberg Center was featured in
New York Construction
's Best of 2006 Awards issue, receiving an Award of Merit in the Health Care and Hospital category. Bovis Lend Lease served as construction manager for the building.
Office of Public Affairs
pr@nyp.org