Body:
Dr. Alisa Dong's mother would be so proud. A few years ago, she sat her daughter down and said, "What are you going to do with your life? You've gotta go back to school."
Dr. Dong followed her mom's advice, attending Weill Cornell Graduate School of Medical Sciences to study cell and developmental biology. On June 1 she graduated, and now with her doctorate in hand, she's working at a consulting firm, strategizing how best to get new drugs from the bench into clinical trials.
"I know that my mom would be so proud today, looking down on me and my sister and how well we've done," Dr. Dong said of her late mother, a pink orchid lei draped around her neck as she stood outside Carnegie Hall after she accepted her diploma. "I know that she is really happy right now. I'm really happy. I will look back at this as one of the crowning achievements of my time."
Dr. Dong was among 275 students – 100 fellow medical doctors from New York, 45 from Qatar, 55 Ph.D.s, 31 physician assistants and 44 with Master of Science degrees – who graduated from Weill Cornell Medicine on Thursday. Vibrant red and white bouquets lined the Perelman Stage as Cornell President Martha Pollack joined Deans Augustine M.K. Choi, Gary Koretzky and Javaid I. Sheikh in conferring degrees on students graduating from Weill Cornell Medical College, Weill Cornell Graduate School of Medical Sciences and Weill Cornell Medical College-Qatar.
With their education behind them, the graduates will now embark on their residencies, postdocs, fellowships and other phases of their careers. But that is only the beginning.
"Medicine is a lifetime commitment," Dr. Choi said in his first commencement address as the Stephen and Suzanne Weiss Dean of Weill Cornell Medicine. "As you go through your residency programs, you'll discover that finding compassion and ways to truly care for your patients are not things you can learn overnight. It is a lifelong process. Continue to work at it every single day. It takes discipline, hard work and perseverance to be the best doctor you can be – and to identify how you can have the greatest impact on the health and wellbeing of others."
And just as the new graduates have an obligation to deliver the finest care to their patients and solve critical medical problems, they too have a responsibility to communicate the importance of their work to the public, President Pollack said.
"No matter how you apply your skills and knowledge in your careers," she said, "I urge you — urge you — to also use those abilities beyond your professional endeavors, and become advocates for scientific knowledge and rational thought in developing informed solutions for the problems we face as a society."
Indeed, the graduates will strive to be thought leaders whose commitment to their fields will inspire future generations of scientists and physicians, said Dr. Koretzky, dean of the Weill Cornell Graduate School of Medical Sciences.
"Our students bring much more to our community than their hard work in the research setting," he said. "They see it as their responsibility to help the generation that follows them to appreciate and embrace the acquisition of knowledge as the foundation of decision-making."
Graduates should savor opportunities to learn something new, to pursue excellence and tackle meaningful problems.
"Leaving Weill Cornell Medicine is bittersweet, but we are all enthusiastic to explore new possibilities and apply what we learned to solve new challenges," said Dr. Seyedeh-Faranak Fattahi, the graduate school's student commencement speaker, who is now running her own laboratory at the University of California, San Francisco. "I am sure that we will all make an impact no matter what we choose to do next. The skills we acquired here will allow us to continue to make a difference and make the world a better place."
They should embrace collaboration—the kind that connects doctors and scientists from across the globe, said Weill Cornell Medical College-Qatar student speaker Dr. Khalid Taha. Weill Cornell Medical College-Qatar reflects that sensibility, uniting the Middle East with New York.
"It was and still is truly inspirational," said Dr. Taha, the eldest of three siblings who are all studying medicine at the Qatar location, about the partnership with Weill Cornell Medicine in New York. The Class of 2017 is the 10th graduating class from Weill Cornell Medical College-Qatar.
Finally, graduates must never forget the tremendous role they play as members of the scientific community. The responsibility is best epitomized for Dr. Sandeep Raj in the Hippocratic Oath, initiating him into an enduring legacy in medicine.
"It was when I was reading out the oath that it felt particularly special," said Dr. Raj, who will soon begin a residency in internal medicine at Johns Hopkins Medicine. "Just knowing that generations of doctors before me have said it, and then saying the words myself in that moment with all my colleagues, it was very emotional."
And it's exemplified in an encounter Dr. Mesha Shaw had just moments after accepting her white coat, which is shorter for medical students, four years ago. After snapping some photos with her friends, she stepped outside 1300 York Ave. and met an elderly woman walking down the street.
"She said, 'I see your white jacket. Are you a doctor?'" Dr. Shaw recounted as the medical college student speaker. "I said, 'No, not yet. But I'm studying to become one.' She said, 'That's truly wonderful. I don't know you, but I'm already proud of you. I know that becoming a physician is not going to be easy, but people in your profession are truly admirable, and you need more people like you.' Then she thanked me, wished me luck and went on her way.
"I was really floored by that experience," Dr. Shaw continued. "There I was, just leaving the White Coat Ceremony, thinking of everything that moment meant to me. I was instantly and powerfully reminded about what it means to a stranger. That woman, without ever knowing it, taught me my very first lesson of medical school: That physicians have a revered and honorable place in our society and, more importantly, that society is relying on us to take care of it. Let's not take that for granted."
Post Date:
Friday, June 2, 2017 - 4:00pm
Featured Image: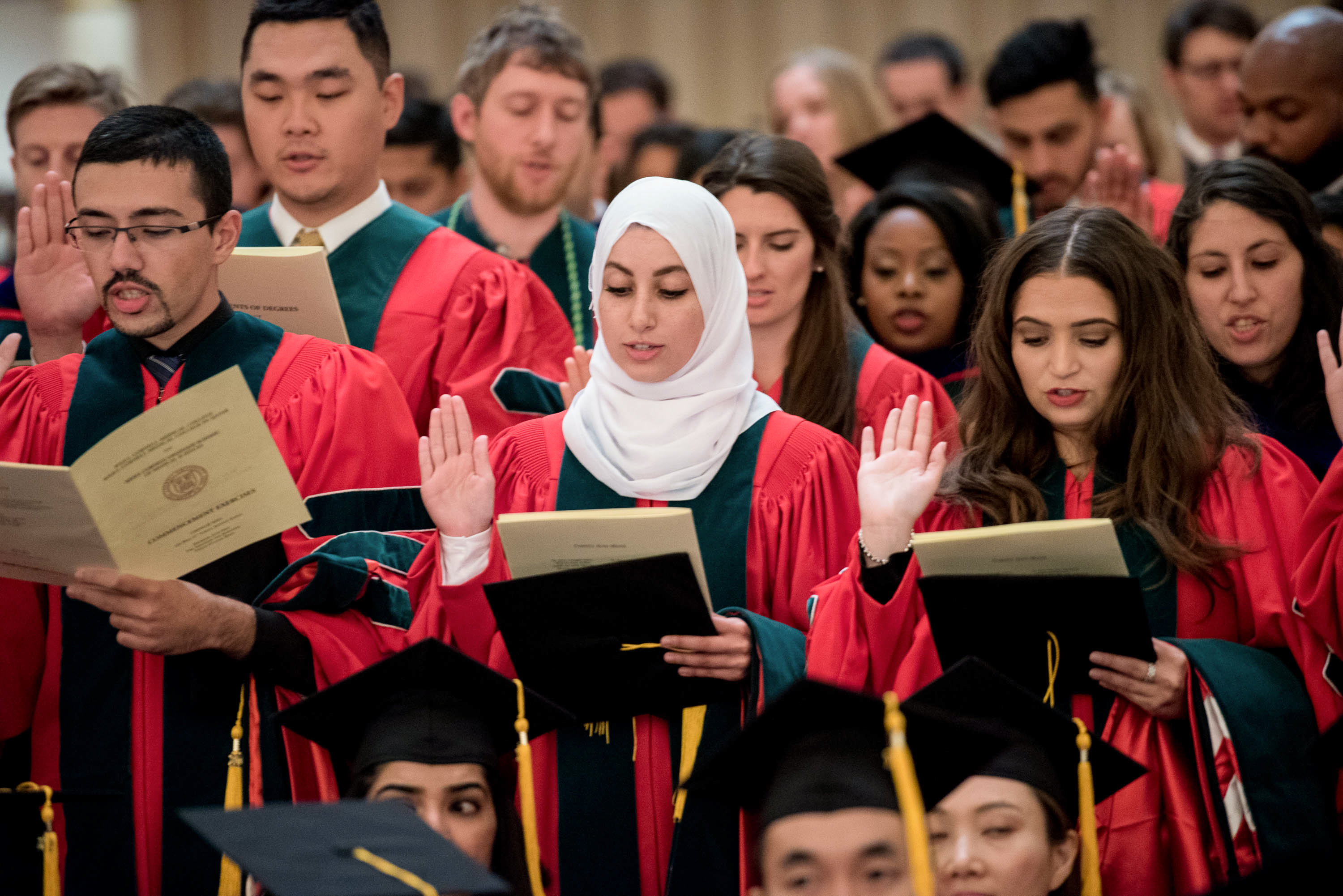 Type of News:
News from WCM
People:
Dr. Augustine M.K. Choi Dr. Gary Koretzky Dr. Javaid Sheikh
Deck (Subtitle):
Weill Cornell Medical College-Qatar Graduates its 10th Class
Hide Featured Image Caption: