Body:
Nearly 6,200 people applied to join Weill Cornell Medicine's Class of 2019. Just 14 percent of those aspiring physicians were invited to come to campus for an interview — part of a winnowing process that ultimately selected the talented group of 106 first-years that matriculated this fall. But for the hopeful future doctors navigating the medical school application system, it can be a challenge to get a comprehensive picture of the institutions where they aim to study, notes assistant dean of admissions Lori Nicolaysen. "With undergrad you get the chance to see the school before you apply, but with medical school you don't," Nicolaysen says. "One of the questions that premed students always have is, 'How can I choose where to go, when I don't get the kind of interaction and exposure I had applying to college?'"
Luckily for applicants — and for the admissions staff — the medical college has a not-so-secret weapon: its current students. Throughout the academic year, med students volunteer their time to help the next crop of Weill Cornellians get to know the school. They give tours to applicants during their interview visits, have lunch with them, host them during the formal "revisit" weekend for admitted students, and more. "They're a critical part of it, to the point where we've been changing our interview scheduling because we want students to be involved," says Nicolaysen. "For applicants, student enthusiasm is a big piece. They fill out surveys after they come here, and they're happiest when they get to talk to a range of students — like if they get to talk to both a first year and a fourth year, that's wonderful."
During revisit weekend last spring, Natalie Wong '18 hosted an admitted student; the two hit it off, and she was pleased to learn that the young woman decided to enroll. "I was able to make her feel at home here, and that goes a long way," says Wong, who has also given tours and attended lunches for interviewees. "It's hard for undergraduates to get an idea of what medical school is like. Even at the end of my own admissions cycle, I had no idea of what I was getting myself into, so it felt good to offer real expertise and insight. It was an opportunity to give back a little of the experience I've gained."
Like more than a third of her class, Wong also served as an Admissions Ambassador, a semi-formal system that asks first-years to indicate areas of expertise they're willing to share with prospective students via phone or e-mail. Among her topics: hailing from the Mid-Atlantic region and matriculating with no fixed idea of a future specialty. Others have fielded queries on such issues as taking a gap year, earning an M.D.-Ph.D., being a married student, and having a passion for music. "You get a lot of different questions," says Shahdabul Faraz '18, who weighed in on being an international student and having an interest in global health, "and I think that reflects how diverse the incoming class is each year."
In addition to participating in tours and lunches, Faraz helped organize last year's revisit weekend, which included outings to a Broadway show, a comedy club, and the Metropolitan Museum. One of his classmates, Simone Elder '17, fielded Ambassador questions about being an underrepresented minority — she's African American — as well as coming to New York from the South.
"The medical school application process can be daunting, because there are so many options, so many decisions you can make," Elder says. "I want prospective students to know that this is a great institution, and they can do whatever they want coming out of here. I think it's important to spread that enthusiasm, but also to be realistic — to have peer-to-peer contact, instead of just a glossy brochure."
Like Wong, Elder was gratified to facilitate a student's choice of Weill Cornell Medicine: a young man from a similar background to her own, with whom she communicated almost weekly during the application process, is now in the Class of '19. "The admissions staff don't live our medical school experience, and neither do our professors," she says. "We have the best understanding of what these students could experience and achieve here. At the end of the day, we're their richest resource — and we're really motivated, because we're interacting with our future peers."
— Beth Saulnier
This story first appeared in Weill Cornell Medicine, Vol. 14, No.3.
Post Date:
Thursday, January 21, 2016 - 2:15pm
Featured Image: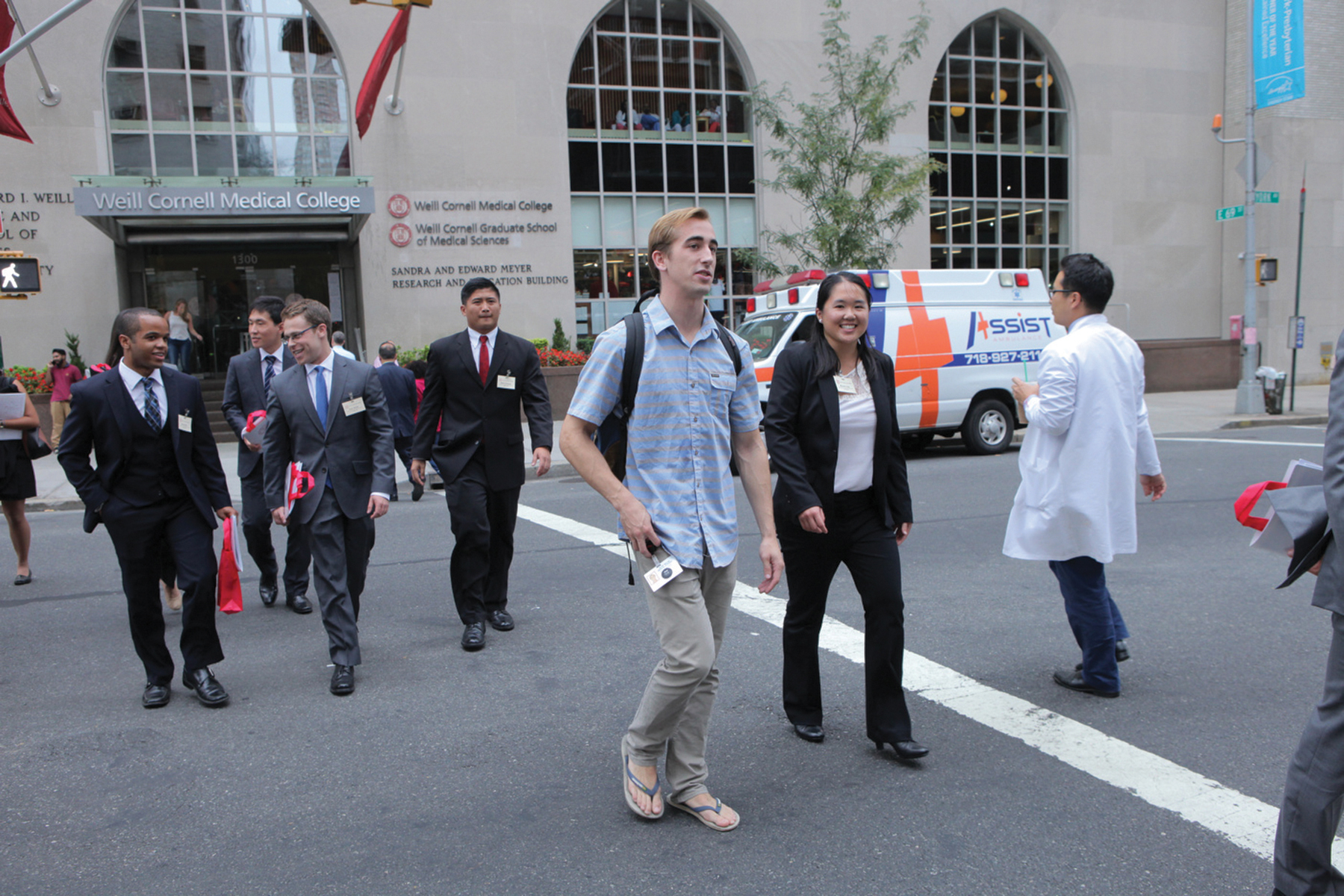 Type of News:
News from WCM
Mission:
Education Institutional
Deck (Subtitle):
From Giving Tours to Lunching with Interviewees, Current Students are Key to the Admissions Process
Hide Featured Image Caption: