Body:
A special patient inspires an endocrinologist to battle type 1 diabetes in Africa
Her name was Marjorie Namayanja, and by the time endocrinologist Dr. Jason Baker met her on a trip to Uganda in 2010, she was already gravely ill with complications of type 1 diabetes. She was just 29 when she passed away the following year after suffering kidney failure — a death that could have been prevented if she'd had access to more advanced types of insulin and more consistent medical care. "I have no doubt in my mind that if she had been in the United States, her diabetes would have been much better controlled — and if she'd developed kidney issues at some point, she would have gotten a transplant, and she'd be alive today," Dr. Baker says. "But in that area of the world, when you develop a complication like she did, it's a death sentence."
Even as Namayanja grew sicker, she remained an ardent advocate for her fellow type 1 patients. And today, her memory lives on through the nonprofit that Dr. Baker established in the hope of sparing others a similar fate. With programs in three African countries so far, Marjorie's Fund aims to empower type 1 patients in developing nations to take control of their care. "We're not interested in going in with just goodwill, and giving supplies and the like," says Dr. Baker, an assistant professor of clinical medicine. "We really want to teach people how to fish rather than just giving them the fish."
Formerly called juvenile-onset diabetes, type 1 is the much rarer form of the disease; unlike type 2, it's not spurred by risk factors like obesity and isn't considered preventable. In Uganda, Marjorie's Fund works with a patient-run advocacy group to support education initiatives, and in Ethiopia it helps train endocrinology fellows in the treatment of type 1. (The group also does work in India — where it supports research, educational initiatives, and access to testing supplies — and in New York City, where it's involved in patient advocacy and other activities.) But its major effort is in Rwanda, where it works with a local diabetes association to run a comprehensive education program for adolescents and young adults. The program supplies participants with insulin and glucose testing strips during their stay, and offers lessons in diabetes management and nutrition; it also provides vocational training in fields like sewing, baking and hairdressing, so graduates have the means to afford their own treatment resources once they go home. "They don't just get the education — they get the tools to actually use it," Dr. Baker says. "We've started to see really good outcomes: decreased rates of complications, fewer hospitalizations, and lower hemoglobin A1c levels, which are average blood sugar levels. So we're working to enhance that program, and we hope to take it to other sites."
For Dr. Baker, diabetes management isn't just a professional issue; it's a profoundly personal one as well. He was diagnosed with type 1 at age 25, as a third-year medical student at Emory University. The following year, while in Ghana for a six-week radiology project, he got his first taste of what it's like to live with type 1 in a developing country. "It was a huge learning curve for me to manage myself in this environment," Dr. Baker recalls. "It really started me thinking, What if I lived here full time? What if I was Ghanaian? It planted the seeds of managing type 1 in these areas where air conditioning, refrigeration, and the typical diet are so challenging." Then, after the September 11 terrorist attacks, Dr. Baker had another epiphany while helping to run a morgue at Ground Zero. "I remember excusing myself and going over to a burned-out corner to check my blood sugar," he says. "I realized that even in the most insane and unorthodox situations, I can't ignore type 1. Otherwise, it'll conquer me."
Dr. Baker founded Marjorie's Fund in 2011; run almost entirely by volunteers, it's supported by private donations and small grants. He travels to its various program sites every few months, staying for about a week while managing his Weill Cornell patient load remotely. And last fall, he marked his 14th year with type 1. These days, Dr. Baker wears a continuous glucose monitor — and he's been known to show his read-outs to his patients to demonstrate that even with his advanced knowledge, his blood sugar levels sometimes go high. "He's a terrific role model," says colleague Dr. Madelon Finkel, director of the Office of Global Health Education and a professor of clinical healthcare policy and research. "He's a caring endocrinologist to his patients, but he also has a broader view of expanding treatment and education to those less fortunate. This is also great from a global health perspective, because it shows our medical students that you really can make a difference. It's not just going someplace for a couple of weeks and forgetting about it. He lives this."
Among the students whom Dr. Baker has mentored is Amare Assefa '16, whose research grant Marjorie's Fund supported. The summer after his first year at Weill Cornell, Assefa traveled to his native Ethiopia in an attempt to understand why the mortality rate for type 1 there is so grim. He surveyed nearly 200 subjects, split between sites in the capital of Addis Ababa and the smaller town of Gondar. In addition to conducting a basic health screening, he asked questions about the treatment they'd received, their attitudes toward their disease, their knowledge of proper management, and more. Among his distressing — if unsurprising — findings were a severe lack of patient education and blood-sugar testing gaps as long as six months. "It opens your eyes," says Assefa, whose parents and two sisters suffer from the type 2 form of the disease. "It was something you had to see for yourself. You feel for the people, but you feel for the healthcare providers as well. There are so many patients who need help, and only so much you can do."
— Beth Saulnier
This story first appeared in Weill Cornell Medicine,Vol. 14, No. 1.
Post Date:
Friday, July 31, 2015 - 11:15am
Featured Image: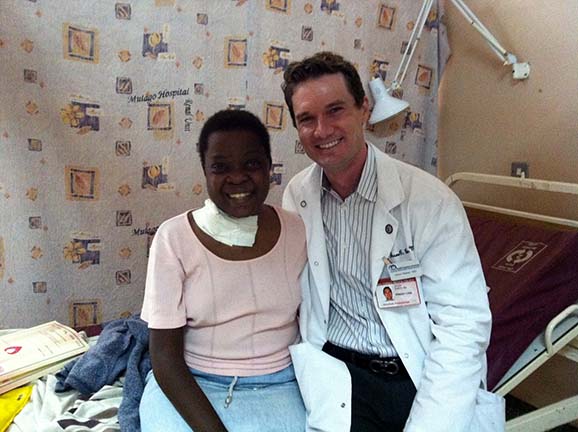 Type of News:
News from WCM
Hide Featured Image Caption: