Body:
Dr. Sing Sing Way's Research on How Mother's Immune Cells Respond to Infection During Pregnancy Unveils New Strategies for Protection Against Stillbirth, Preeclampsia and Premature Birth
NEW YORK, NY (March 17, 2016) — Dr. Sing Sing Way, the Pauline and Lawson Reed Chair in Infectious Disease at Cincinnati Children's Hospital and an associate professor of pediatrics at the University of Cincinnati College of Medicine, has been awarded the inaugural Gale and Ira Drukier Prize in Children's Health Research, Weill Cornell Medicine announced today.
The Drukier Prize honors an early-career pediatrician whose research has made important contributions towards improving the health of children and adolescents. Dr. Way was recognized for his groundbreaking research on how a woman's immune system naturally tolerates the developing fetus and placenta during pregnancy, preventing rejection of these genetically foreign tissues. Many pregnancy complications — including stillbirth, prematurity and preeclampsia — are associated with disruptions in fetal tolerance, and children born following these pregnancy complications are highly susceptible to infection, breathing disorders, deafness and blindness, along with learning and behavior disabilities. With a better understanding of immune cells that maintain healthy pregnancy, doctors may be able to provide more effective therapies against these complications to improve the health of infants and children.
Dr. Way formally accepted the award, which carries a $10,000 unrestricted honorarium, and delivered a public lecture on March 16 about reinforcing maternal immune tolerance during pregnancy.
"We are thrilled to honor Dr. Way with this inaugural award, and to formally recognize the quality of his vital work and his dedication to improving children's health," said Dr. Gale Drukier and Weill Cornell Medicine Overseer Ira Drukier, who together established the prize. "Dr. Way exemplifies just why we created this prize: We could not think of a more deserving individual, or someone who is a greater exemplar for the importance of pediatric research."
The Gale and Ira Drukier Prize in Children's Health Research was established as part of a $25 million gift to Weill Cornell Medicine in December 2014, which also created the Gale and Ira Drukier Institute for Children's Health. As part of its mission, this premier, cross-disciplinary institute, dedicated to understanding the causes of diseases that are devastating to children, will award this prize annually.
"An accomplished physician-scientist and leader, Dr. Way is deeply committed to driving advances in pediatric research and patient care," said Dr. Laurie H. Glimcher, the Stephen and Suzanne Weiss Dean of Weill Cornell Medicine. "His groundbreaking basic and translational research has the power to profoundly improve the health of each and every pregnancy — and generations of children along with it. Weill Cornell Medicine is delighted to honor Dr. Way with the inaugural Gale and Ira Drukier Prize in Children's Health Research."
"There is still so much we don't know about how the maternal immune system functions during pregnancy, and what role it plays in devastating outcomes like early-term miscarriage, spontaneous abortion, stillbirth and infant mortality," said Dr. Gerald Loughlin, the Nancy C. Paduano Professor and chairman of Weill Cornell Medicine's Department of Pediatrics. "Dr. Way is dedicated to answering these fundamental scientific questions and investigating how researchers can bolster women's immune systems to ensure that they and their children are healthy. For that reason, he is an ideal awardee."
"I have enormous gratitude toward the Drukier family for creating this recognition, and toward Weill Cornell Medicine and the Department of Pediatrics for using this award to put pediatric research in the national spotlight," Dr. Way said. "Reproductive immunology and prenatal infection are specialized research areas, and I am excited for this award to draw more attention to these understudied clinical problems that carry profound medical and emotional repercussions for families."
Dr. Way has shown that expanded immunological tolerance during pregnancy weakens a woman's ability to fend off infection-causing microbes. Once infection takes hold in women during pregnancy, the maternal immune cells' tolerance of the developing fetus, which bears genetically foreign tissues, is overturned, causing a rejection-like reaction.
"If the root cause of pregnancy complications stems from maternal immune cells unintentionally attacking the baby, immune-based therapies may be the key to help mothers better tolerate their pregnancies," said Dr. Way, who published a series of papers on these findings in Cell, Nature and The Journal of Clinical Investigation. This might involve somewhat counterintuitively weakening the responsiveness of maternal immune components, he continued, so that they do not reject the baby.
"Another interesting idea is developing vaccines that reinforce fetal tolerance. While most vaccines work by priming the immune system to become activated, this vaccine would tell the immune system to be more tolerant," he said.
Dr. Way also discovered why newborn infants in the first weeks after their birth are more susceptible to infection. His research showed that immune cells in newborn babies are actively suppressed. These findings, published in Nature, profoundly change the conceptual framework for how scientists view newborns' susceptibility to infection, which may lead to improved strategies for preventing infection when children are most vulnerable.
"Children are most susceptible in the first month after birth, and in fact, more than 40 percent of childhood deaths occur in this critical developmental window," Dr. Way said. Some of these infants are born too early and their medical issues are a direct reflection of pregnancy complications, while others acquire life-threatening illness soon after birth. "By better understanding how maternal and neonatal immune cells are uniquely regulated during pregnancy and the early postnatal period, we hope to develop more effective therapies for reducing infant mortality and improving the health of surviving children."
Dr. Way received both his medical degree and a doctorate in microbiology and immunology from the Albert Einstein College of Medicine in the Bronx. He completed his residency in pediatrics at the University of California, San Francisco, a fellowship in infectious disease at the Children's Hospital and Regional Medical Center in Seattle, and post-doctorate research training at the University of Washington. He is outspoken about the need for pediatricians to develop research careers to optimally address the clinical problems unique to infants and children.
"Many times, parents will ask me why their child got sick, and what can be done to prevent their child from getting sick again," Dr. Way said. "While the answers pediatricians provide in response to these practical, real-life questions are often disguised in medical jargon and complex laboratory testing, the root cause in most cases remains undefined."
"Physicians like me who struggle to find acceptable ways to say 'I don't know,' to sick children and their parents have an enormous motivation to perform research, so that one day, we can eliminate the need for these questions to be asked in the first place," he continued. "Caring for sick children day in and day out should drive us to find ways to make things better. After all, our future is in the hands of today's children, and accordingly, there is nothing more important than their health and wellbeing."
Weill Cornell Medicine
Weill Cornell Medicine is committed to excellence in patient care, scientific discovery and the education of future physicians in New York City and around the world. The doctors and scientists of Weill Cornell Medicine — faculty from Weill Cornell Medical College, Weill Cornell Graduate School of Medical Sciences, and Weill Cornell Physician Organization — are engaged in world-class clinical care and cutting-edge research that connect patients to the latest treatment innovations and prevention strategies. Located in the heart of the Upper East Side's scientific corridor, Weill Cornell Medicine's powerful network of collaborators extends to its parent university Cornell University; to Qatar, where Weill Cornell Medicine-Qatar offers a Cornell University medical degree; and to programs in Tanzania, Haiti, Brazil, Austria and Turkey. Weill Cornell Medicine faculty provide comprehensive patient care at NewYork-Presbyterian/Weill Cornell Medical Center, NewYork-Presbyterian/Lower Manhattan Hospital and NewYork-Presbyterian/Queens. Weill Cornell Medicine is also affiliated with Houston Methodist. For more information, visit weill.cornell.edu.
Post Date:
Thursday, March 17, 2016 - 9:15am
Featured Image: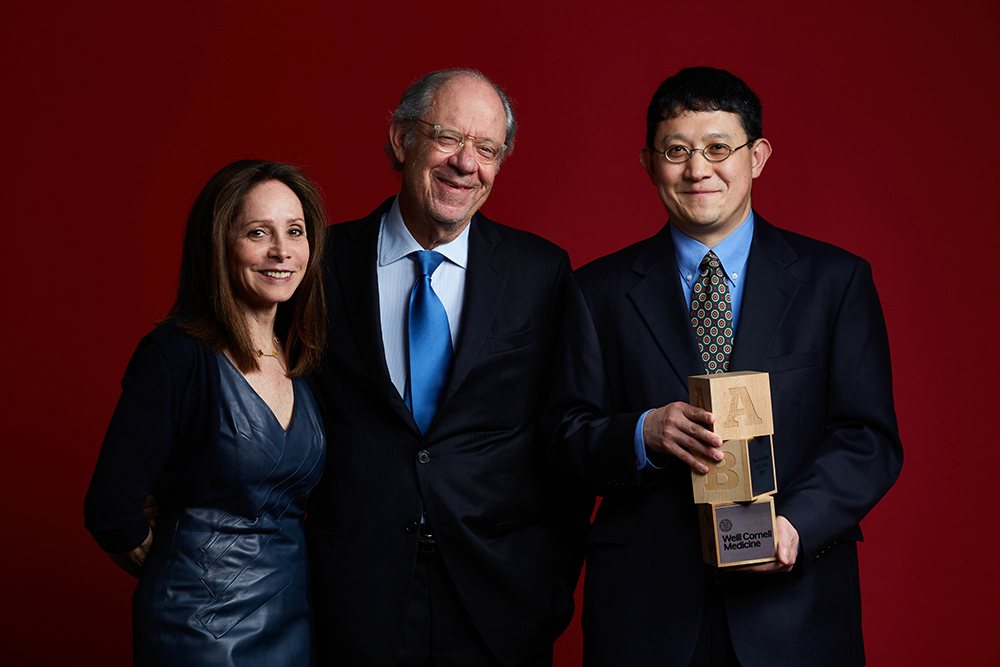 Type of News:
Press Releases
Hide Featured Image Caption: