Body:
Clinical epidemiologist aims to help ailing older adults stay active
A surprise gift arriving in the mail. A grandchild's photo on the bedside table. The memory of a long-ago college graduation. Could such small pleasures contribute to big differences in the health and exercise habits of the sickest elderly patients?
Dr. Janey Peterson is betting that they can. And two leading organizations in the field of aging research are putting their money on it too, by funding her study on interventions that can help older adults with multiple chronic illnesses become more physically active, thereby improving their health and overall well-being.
Dr. Peterson is an associate professor of clinical epidemiology in medicine, cardiothoracic surgery, and integrative medicine who is trained as a registered nurse. She has gained attention from both her peers and the mainstream media for her work as a clinical epidemiologist and behavioral scientist on issues affecting older patients, from financial exploitation of the elderly to later-life pain management. In 2013, she became the only registered nurse to receive a Beeson Career Development Award in Aging Research, just 200 of which have been given over the past 20 years.
Dr. Peterson is now using the more than $720,000 she garnered from the award (which is funded by the National Institute on Aging and the American Federation for Aging Research and supports investigations by outstanding junior faculty at medical schools nationwide) to apply lessons she has learned from her past work on motivating healthy behaviors to help a population typically excluded from clinical studies and exercise recommendations because of the complexity and seriousness of their health issues. "As people age, they often have multiple chronic conditions such as diabetes, congestive heart failure, or a history of heart attack," Dr. Peterson explains. "Physicians prescribe exercise to only about a third of older adults, and research demonstrates that doctors lack training in how to offer exercise recommendations to this high-risk group. Older adults who have a high number of chronic illnesses have a two to three times greater risk of becoming disabled over just a few years — but physical activity can both prevent disability and improve function in older adults who have early disability."
To take advantage of that window of opportunity, Dr. Peterson and her team motivate physical activity through an intervention she has named Positive Affect Induction for Regular Exercise, or PAIRE. Positive affect — a feeling of happiness and well-being — has been shown in non-clinical studies to promote self-efficacy, flexible thinking, and healthy behaviors, among other benefits. To induce it, Dr. Peterson uses small surprises — like the gift of an inexpensive blanket — to make patients feel good and reflect on their participation in the study. Through brief, scripted phone calls, she also encourages patients to induce positive affect on their own by thinking pleasant thoughts or looking at pictures of loved ones whenever they need motivation.
Dr. Peterson's ultimate goal is to find out how much — or how little — exercise will make a difference for older adults facing complex health issues. She notes that for the nation, the socioeconomic stakes are high: 32 percent of Medicare beneficiaries suffer from two to three chronic illnesses, 23 percent have four to five, and 14 percent are struggling with six or more. And while the Surgeon General recommends at least 150 minutes of moderate to intense physical activity a week for adults, Dr. Peterson believes that much smaller amounts of regular activity can help patients with chronic conditions avoid disability and major morbidity and mortality. "People underestimate the value of regular physical activity," she says. "My pilot data suggests that if we can get older adults with chronic disease walking just a little bit and they can sustain it, they have significant reductions in morbidity and mortality." Moreover, Dr. Peterson notes that regular exercise can increase hippocampal mass by 2 percent over a year — meaning that new neurons are being generated in the brains of older adults — while those who don't exercise lose 1.4 percent of their hippocampal mass. Recent work has also shown that exercise enhances DNA methylation in muscle cells, which helps explain the mechanisms by which exercise reduces the risk of disease. "My work in this area won't be finished," she says, "until we translate our data into clinical guidelines for physicians to use when prescribing physical activity for older adults with chronic disease."
Dr. Peterson points to projections that more than 20 percent of Americans will be 65 or older by 2040. She believes that guidelines and interventions to promote exercise can help older adults take better control of their own health — and ease the national burden of caring for chronically ill patients who go on to become disabled, in large part through inactivity. Her colleagues and research partners in fields as varied as oncology, cardiology and urology share her sense of urgency. "As the population ages, we need to find new strategies to help patients change behaviors and manage complications from serious conditions," says Dr. John Leonard, associate dean for clinical research, the Richard T. Silver Distinguished Professor of Hematology and Medical Oncology, and one of Dr. Peterson's collaborators. "By applying a scientific approach to the development and assessment of such strategies, Dr. Peterson is making a major contribution to the field."
Dr. Leonard notes that the implications of Dr. Peterson's research go beyond geriatric medicine; for example, she has studied how cancers such as lymphoma affect mindset and behavior. Her current focus, on helping older adults, was inspired in part by caring for her own parents. "The more I learn from my family's experiences and the more I work with this population, the more passionate I become," Dr. Peterson says. "Our country is growing older and older. Every hole in the safety net, every gap in the research, is an opportunity to advance care for older adults."
— C. A. Carlson
This story first appeared in Weill Cornell Medicine,Vol. 14, No. 1.
Post Date:
Thursday, September 24, 2015 - 10:15am
Featured Image: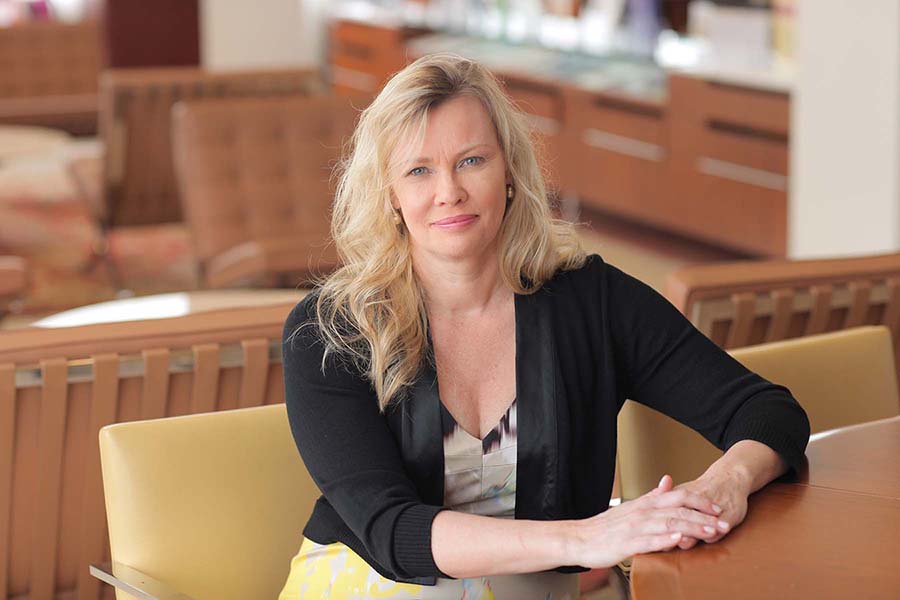 Type of News:
News from WCM
Hide Featured Image Caption: