Body:
It's been an exceptional year for Weill Cornell Medical College that unveiled an innovative curriculum, heralded the opening of the new Belfer Research Building and celebrated an expansion of its clinical footprint in metropolitan New York.
Standing in front of Uris Auditorium on Dec. 12 for her annual State of the Medical College address, Dr. Laurie H. Glimcher, the Stephen and Suzanne Weiss Dean of Weill Cornell, lauded these and other triumphs that she said have bolstered Weill Cornell's position as a global healthcare leader dedicated to providing the best care to patients.
"These multiple transformations taking place in medical education, biomedical research and patient care will have an enormous impact on our medical school and will help set its course for years to come," she said.
Training the Next Generation of Physicians and Scientists
The Class of 2018 collectively has the highest ever undergraduate grade point average in the history of Weill Cornell, and their MCAT scores tied with a previous class for highest ever at the medical college and were fifth highest in the United States. Medical college officials selected these 101 students from nearly 6,400 applications — the highest number of applicants for an incoming class in 15 years.
The class is the first to learn under Weill Cornell's new curriculum, which transforms the paradigm of medical education by integrating basic science with clinical care so that students can immediately apply what they are learning in the classroom to patients. It focuses on a cross-disciplinary, thematic view of medicine. Dr. Glimcher said students are reporting high levels of satisfaction with it.
The Weill Cornell Graduate School of Medical Sciences is thriving under the leadership of Dean Dr. Gary Koretzky, Dr. Glimcher said. It has accepted the highest quality students this year, with most of them having published an article in a journal or having one under review before they matriculate. And the Tri-Institutional M.D.-Ph.D. Program — "one of the jewels in our crown," Dr. Glimcher said — accepted 18 students this year thanks to the perfect score it received in 2013 in its NIH Medical Scientist Training Program grant renewal.
Qatari citizens comprise 27 percent of Weill Cornell Medical College in Qatar's incoming class, achieving the location's goal of helping to build a talented cadre of physicians for the country, Dr. Glimcher said. To strengthen this pipeline program, WCMC-Q is restructuring its curriculum to integrate its premedical and medical programs into a cohesive, six-year medical-education program.
Building a Robust Biomedical Research Program
More than 45 faculty programs have moved into the Belfer Research Building since it opened in January, and the built-out floors are now at 75 percent occupancy. Construction crews are currently building out three more of the shelled floors, with completion expected by late summer, Dr. Glimcher said. Hunter College and a dozen of its scientists will soon move into the fourth floor.
Since 2012, Weill Cornell has successfully recruited nearly 50 top-flight researchers to pursue groundbreaking translational research. Among them are immunologists focusing on gastrointestinal diseases who complement the medical college's GI clinicians.
"We have always been outstanding in clinical care for GI diseases — wonderful surgeons and GI physicians," Dr. Glimcher said. "We now have, I think, a scientific clinical enterprise in GI medicine that is the best in New York City."
Collectively, the recruits have successfully secured new research funding from the National Institutes of Health — despite steep cuts to its budget — helping Weill Cornell buck the national trend.
"We are a rare institution where the amount of NIH funding has actually grown rather than decreased," Dr. Glimcher said.
But Weill Cornell is not immune to the challenges facing all academic medical centers. In addition to seeking out NIH grants and lobbying New York State to provide biomedical research support, Weill Cornell has forged more than a dozen research alliances with the biopharmaceutical industry to advance promising early- stage applied and translational research into innovative therapeutics for patients. And the first projects selected for funding by the Daedalus Fund for Innovation were announced this fall to help Weill Cornell investigators make research that has commercial potential more appealing to industry partners.
"The most effective way to get discoveries that are made in the lab into new therapeutics for patients is to partner with industry," Dr. Glimcher said. "We can move these promising basic science projects ahead with greater speed and efficiency if we team up with the private sector."
Expanding Clinical Care
The Weill Cornell Physician Organization has had enormous growth, with a 37 percent increase in patient visits. This upward trajectory will likely continue as the organization expands its footprint in the metropolitan area to provide more New Yorkers with its exceptional clinical care. It has added more than 150 physicians to its ranks at NewYork-Presbyterian/Lower Manhattan Hospital and will open a new primary care practice on the Upper East Side. It also will establish new outpatient units at 156 William St. and 40 Worth St., as well as expand services offered by Weill Cornell Imaging at NewYork-Presbyterian.
"This is a rapidly growing organization, which I think is necessary because clinical care is at the heart of what we do and it is the economic engine by which we are able to carry out our missions in research and medical education," Dr. Glimcher said.
Leadership Transitions
After two decades of visionary leadership, the medical college announced earlier this month that Sanford I. Weill was retiring as chair of the Weill Cornell Board of Overseers on Jan. 1. Jessica Bibliowicz, a successful entrepreneur in the financial services business, was announced as his successor.
"Sandy has given his heart and soul, passion and commitment, and I really can't think of any other person who has shaped a medical school over such a long period of time to the extent that he has," Dr. Glimcher said. "But we will be gaining another talented leader, and I am really thrilled that Jessica Bibliowicz will be lending her skills and expertise to us."
Cornell University also named Elizabeth Garrett, provost at the University of Southern California, as Cornell's next president, effective July 1. She will succeed President David J. Skorton, who will become the next secretary of the Smithsonian Institution.
"Dr. Skorton is an absolutely marvelous president of Cornell University," Dr. Glimcher said. "I think he will go down in history as one of the greatest presidents of any American university. But we are fortunate to have Beth Garrett join us. She's an extremely talented leader who has done wonderful things at USC and we look forward to integrating her into the medical college here."
This new triumvirate in medical college and university leadership is notable not just for the wealth of expertise they each bring, she added.
"It's not so bad to have three leaders who have two X chromosomes," Dr. Glimcher quipped. "That's got to be pretty unique."
Post Date:
Friday, December 19, 2014 - 12:15pm
Featured Image: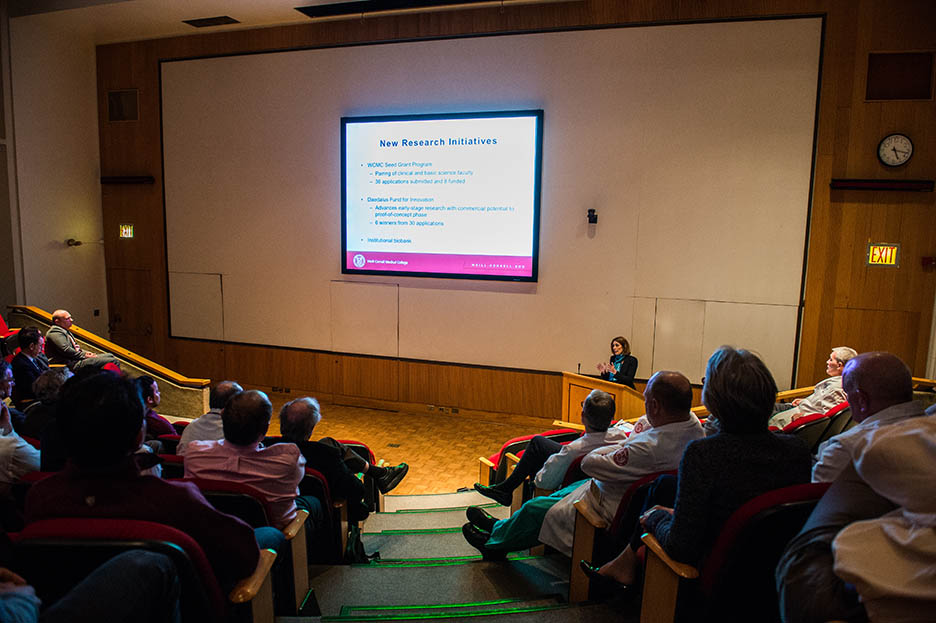 Type of News:
News from WCM
Hide Featured Image Caption: