Body:
Through community outreach, students and faculty tackle health disparities among poor and minority New Yorkers
By Heather Salerno
Earlier this year, Ana Reyes promised herself that she'd start living healthier. She knew she needed to make some changes; at fifty-one, the mother of three carried 270 pounds on her five-foot-one frame. So she began eating more vegetables, drinking lots of water, and taking long power walks —and in five months, she'd shed twenty pounds. But Reyes, who lives in a public housing development in East Harlem, knows she should do more. She doesn't have a primary care provider, and her high blood pressure hasn't been monitored regularly since she was pregnant with her youngest child, now ten. As for cholesterol, body mass index, or blood sugar? Reyes can't remember the last time they were checked.
That's why she's at the Johnson Houses Community Center on this Saturday afternoon in May, taking advantage of a free health screening conducted by Weill Cornell's Heart-to-Heart program, a student organization sponsored by the Clinical and Translational Science Center (CTSC). The event has a party vibe, thanks to a flurry of red and white balloons and a DJ spinning dance tunes. But the mission is serious: staffed by physicians, nurses, and students, Heart-to-Heart aims to curb cardiovascular disease in New York City's underserved, minority, and ethnic communities. Faculty and clinicians-in-training — including medical and physician assistant students from Weill Cornell and nursing students from Hunter College — work to identify people who may already have a chronic disease, as well as to offer preventive advice to those on the cusp of dangerous conditions.
On a stage next to the center's basketball court, Reyes moves from station to station as smiling Heart-to-Heart volunteers measure her waist circumference, check her pulse, and prick her finger to draw blood, which is analyzed in less than seven minutes. She doesn't react much when given the straight numbers: total cholesterol of 258 (above normal); glucose level of 111; a BMI of 46.54 percent (considered morbidly obese). But she's visibly concerned after sitting down with Sebhat Erqou, MD, PhD, an instructor in medicine at Weill Cornell, who gently explains that the results put her at a much higher risk for type 2 diabetes, heart attack, or stroke. "The good thing is that you're doing all the right things, because exercise and weight loss can reverse it in most people," Erqou tells her. "Your doctor in the future may want to put you on diabetes medication, but you could prevent that by doing the things we're talking about. It's not alarming, but it's something to watch."
Referred to an agency that can assist her in finding a regular doctor who takes her government-sponsored insurance plan, Reyes vows to seek follow-up care. "This is the first time I ever heard I was pre-diabetic," she says with a frown. "It just tells me I have to work harder."
Unfortunately, Reyes's diagnosis isn't the exception in her neighborhood — it's the rule. In East and Central Harlem, six in ten adults and about one in four children are overweight or obese. As a result, these largely African American and Latino communities have a disproportionately higher prevalence of obesity-related illnesses such as diabetes, heart disease, and other major ailments. Of the more than 3,000 people that Heart-to-Heart has screened at more than fifty events throughout New York City since 2010 — about half of whom have a household income of $20,000 a year or less — nearly 60 percent are pre-diabetic or diabetic. "We need to make these individuals aware of their conditions early on and convince them to make small lifestyle changes that can make a big difference in the long term — not just in keeping them healthy, but in also reducing the healthcare costs for the nation," says Jeff Zhu, the CTSC's manager for community research, relations, and outreach. Says Julianne Imperato-McGinley, MD, the CTSC's program director and associate dean for translational research: "Cardiovascular disease is one of the easiest diseases to prevent. If you can discover it, diagnose it, and intervene early, you don't need to go through, say, triple-bypass surgery down the road."
Heart-to-Heart is one of several CTSC outreach programs striving to address the health inequities that plague socioeconomically disadvantaged New Yorkers. Since 2009, the Center has provided Community Interactive Video Conferencing (CIVIC), which connects experts from Weill Cornell and partner institutions with underserved communities throughout New York City and Long Island. Connecting with audiences at faith-based institutions and community centers, it addresses preventive health and other topics in an interactive, town-hall-style format; its latest initiative provides "hands-only" CPR training in conjunction with the Ronald O. Perelman Heart Institute. "Community engagement is an important function of the CTSC," Imperato-McGinley notes. "With CIVIC and Heart-to-Heart, we've made a firm commitment to being a partner in addressing disparities in New York City." In 2012, the CTSC produced a successful staged reading of Miss Evers' Boys, a Pulitzer-nominated play about the notorious Tuskegee syphilis study written by Cornell theatre professor David Feldshuh, MD. The event featured a panel — moderated by Joseph Fins, MD '86, the E. William Davis Jr., MD, Professor of Medical Ethics and chief of the division — that addressed the issues the play raises.
For Weill Cornell, combating health disparities is an ongoing commitment that goes back decades. For example, the Medical College founded its Travelers Summer Research Fellowship program — designed to help pre-med students from under-represented minority groups dive deeper into issues that affect the underserved — nearly a half-century ago. In 2009, an $8 million grant from the NIH established the Comprehensive Center of Excellence in Disparities Research and Community Engagement, (CEDREC), charged with developing community-based initiatives to improve the health of this hard-to-reach population by providing general health education.
Normally, says CEDREC's director, Carla Boutin-Foster, MD, MS '99, research is conducted in academic settings, which many in these communities find off-putting. So the goal of these programs is to connect one-on-one with patients in places where they feel most comfortable, even if the locations are unconventional. "There are social factors that pose challenges for some people to access proper care in traditional healthcare settings," says Boutin-Foster. "We want to make sure that we reach people where they are and not rely on traditional healthcare or research settings."
Boutin-Foster adds that those social factors also contribute to the poor health seen frequently among the groups that the Center serves. Minorities are more likely to live in areas where fresh produce and other healthy foods are scarce, with few opportunities for safe, affordable physical activity. Language barriers and transportation issues block some from visiting a physician.
Among many African Americans, there is still a lingering mistrust of medical research that dates back to the Tuskegee study; Boutin-Foster points to research showing that some minorities may feel that doctors treat them differently because of their race or ethnicity. In addition, routine checkups and treatment for chronic diseases often prove too costly for the uninsured. "When someone has to take care of a family and worry about paying the bills, health may not be a priority," says Boutin-Foster. "It's not a deficiency that they have; it's just reality. People are constantly making tradeoffs when it comes to their own health, especially when they don't feel ill. Hypertension tends to be silent until someone has organ damage; so, for the most part, do renal disease, stroke, and heart failure from hypertension. So 'why take a day off from work when that's going to cost part of my salary or even my job?' It's complicated."
For Boutin-Foster, any effective health intervention or research study requires a grassroots effort, one that embeds itself in the population being served. Therefore, faculty working on CEDREC projects collaborate with partners — including barbershop owners, faith-based organizations, and local physicians — who are trusted by the residents of those communities. To recruit participants for the Small Changes and Lasting Effects (SCALE) project — a five-year, multi-phase trial to help overweight or obese African Americans and Latinos lose weight by adopting tiny shifts in their dietary and exercise habits — researchers sought assistance from prominent church leaders, well-established health centers, and PTA associations in Harlem and the South Bronx. Pastoral support, in particular, was instrumental in motivating church members to take part in SCALE, according to Erica Phillips-Caesar, MD, an associate professor of clinical medicine and co-director of CEDREC's Community Engagement Core. In fact, on the day that Phillips-Caesar and her colleagues introduced the program at Harlem's Abyssinian Baptist Church, the influential Rev. Dr. Calvin Butts based his sermon on the issue. "Especially in communities of color, the church has served as a leader in a number of different realms — whether it be health, politics, or social issues," says Phillips-Caesar. "That's very powerful in terms of creating a community of people who are going to support this."
The SCALE team is currently finishing data collection from the approximately 300 adults who enrolled in the program. Participants started by making a relatively minor change in their diet, such as eating from a smaller plate or not skipping breakfast, along with setting a reasonable goal for daily physical activity. Then a community health worker followed each patient for one year, meeting with them regularly and working together on strategies to best achieve those objectives. The intent was to have participants lose at least 7 percent of their total body weight — but the program had wider goals. The community health workers were also trained to navigate unique, unrelated challenges. When one woman had difficulty committing to the program because she has an autistic child, her worker helped find support services. "The intervention is not one-size-fits-all," says Phillips-Caesar. "Our community health workers do a lot of counseling and outreach on aspects of people's lives that have nothing to do with weight."
Just as the SCALE project relied heavily on churches to spread the word, the HeartSmarts program at the Perelman Institute highlights the important role that religion can play in disease-prevention efforts in underserved communities. Created by Naa-Solo Tettey, EdD, the Institute's cardiovascular health education and community outreach coordinator, HeartSmarts uses the Bible to teach minority churchgoers about the benefits of a healthier lifestyle. "I saw a lot of programs that were faith-based, meaning that they were in the churches but they weren't actually utilizing the church culture or the Bible," says Tettey. "They were just programs people had created and given to the churches. So I thought it would be interesting to combine the science with actual scripture."
For example, during a lesson about understanding one's risk of heart disease, Tettey quotes from I Corinthians: "Do you not know that your bodies are temples of the Holy Spirit, who is in you, whom you have received from God? You are not your own. . . . Therefore honor God with your bodies." She incorporates other key passages when talking about the importance of physical activity, portion control, and optimal heart rates and cholesterol levels.
Since 2012, Tettey has trained about eighty "ambassadors" from the Flatbush Seventh-Day Adventist Church in Brooklyn, the Presbyterian Church of St. Albans in Queens, and dozens of other ministries throughout New York City and Long Island. Those representatives then educate fellow congregants who sign up for a ten-week HeartSmarts course. In the first year alone, more than half the participants reduced their blood pressure and waist circumference. The message, however, has spread beyond those who attend class. "Now, after church services, they're not serving fried chicken anymore. They're serving baked chicken and vegetables," says Tettey. "So even if every person in the church doesn't take the class, they're impacted in some way by having that ambassador there."
At CEDREC, Boutin-Foster hopes to secure funding for projects that focus on health disparities among immigrants, especially low-wage workers in the service industry. The Center is currently fostering partnerships with groups that support day laborers and taxi drivers; it's also teaming up with the New York City office of Cornell's Worker Institute and the National Domestic Workers Alliance to craft interventions for some of the approximately 200,000 domestic workers in New York City including nannies, housecleaners, and elder-care providers. K. C. Wagner, co-chair of the Equity at Work Initiative, notes that even though domestic workers are responsible for the well-being of those in the households where they're employed, they're often unable to attend to their own health concerns. "That is the irony," she says. "Because of their role as workers in an informal economy — some of whom are documented, some of whom are not — they don't have access to healthcare resources."
Moving forward, Boutin-Foster hopes that CEDREC will become a training ground for students interested in studying healthcare disparities. She agrees that larger social policies are needed to address the root causes of such disparities, but she insists they're not enough. A policy can't motivate someone to adopt a healthier lifestyle; that's why she says physicians-in-training must take part in hands-on projects that provide patients with tools that will enable them to become more active in their care. Boutin-Foster believes that medical centers like Weill Cornell must teach physicians to be part of the solution, showing them that well-designed educational and outreach efforts can translate into positive, real-world changes. "It's not just something in a book," she says. "I live in Brooklyn, and I see these disparities on a daily basis; all I need to do is walk down the block or ride the subway. So for me, it's personal."
This story first appeared in Weill Cornell Medicine, Vol. 13, No. 3.
Post Date:
Tuesday, December 30, 2014 - 5:00pm
Featured Image: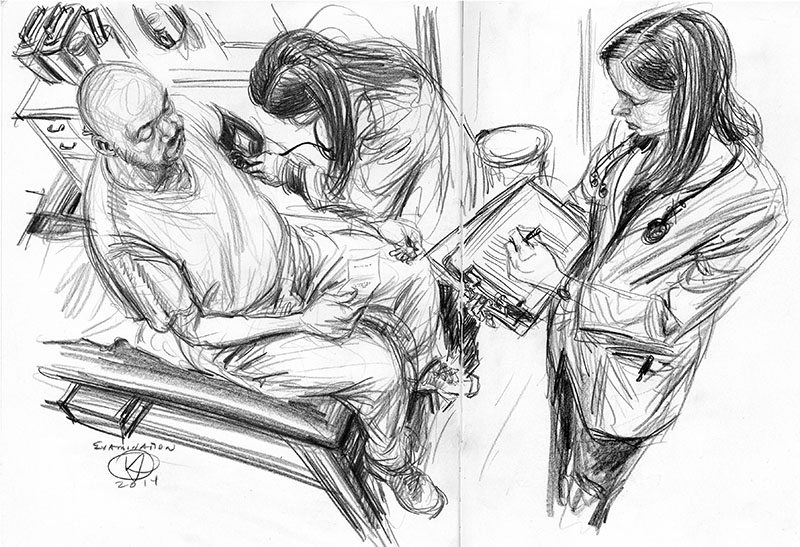 Type of News:
News from WCM
Hide Featured Image Caption: