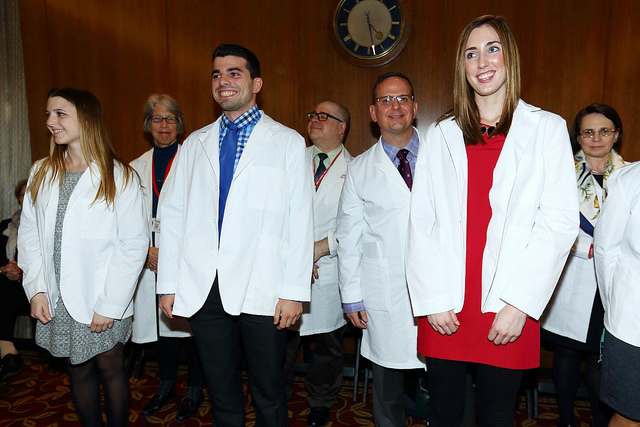 In a cloud of dust he stood there, clutching to the last person that he could trust, his older sister. As he looked up, I was met with only one good eye. The little boy's right cornea had been severally damaged; and where a pupil should have been, there was a cloudy infection. I immediately brought him to a physician, and as he explained his injury, I realized we were more connected than this young boy could ever imagine. — An essay by Raul Pino, 2015
For Raul Pino, this moment in time will stay with him forever. As a medical volunteer in Honduras, Pino recalled his first encounter with the homeless children who worked at whatever jobs they could find, just to survive. It reminded him of how fortunate he and his family had been. Raised in rural Cuba after the fall of the Soviet Union, he was aware of just how cruel life could be. Knowing true hunger and poverty, his family started a new life in America — escaping a path that could have paralleled his young patient's.
In realizing the effect he had in the life of the young boy, a spark ignited deep within Pino — a burning, unyielding desire to help those around him. Inspired by his journey, he decided on a school that could unite his love of medicine and his passion for helping others. On March 7, he and 33 of his fellow classmates accepted their white coats at Weill Cornell Medicine — officially beginning their careers as physician assistants.
Dr. Gerard Marciano, director of the physician assistant program, speaks during the white coat ceremony on March 7.
Photo credit: Marla Wojazcyk/Getty Images for WCM
"For me, it was a major milestone, a culmination of my hard work and my parents' sacrifice," said Pino, 25, who graduated with a bachelor's degree in biology from the University of Connecticut. "More importantly, the white coat is an immense responsibility to devote my life to my future patients and to respect my profession."
Weill Cornell Graduate School of Medical Science's Physician Assistant program Class of 2018 is comprised of 34 students — selected from a pool of more than 1,200 applicants — who hail from across the United States. The newly coated students bring with them a gamut of educational backgrounds and life experiences, ranging from working at homeless shelters, food banks, soup kitchens and cancer care centers, to volunteering at Big Brothers Big Sisters of America and working with special needs children.
Dr. Katherine Hajjar, assistant dean for research and chair of the physician assistant program, addressed the incoming class by reciting a passage from "A Doctor of the Old School," a fictional novella about Dr. William McClure, a rural Scottish physician in the 19th century. The story illustrates the power of hope and the importance of the work of the physician or physician assistant, Dr. Hajjar said.
"Few things are more frightening than a severe illness, and despair can be as debilitating as a disease," said Dr. Hajjar, who is also the Brine Family Professor of Cell and Developmental Biology and a professor of pediatrics and pediatrics in medicine at Weill Cornell Medicine. "Be like Dr. McClure, a doctor of 'the old school.' Be an advocate for your patients — if you listen to them, sit with them, attend to them and bring sunlight into their houses — you will make a great difference, no matter how bad things seem."
"As medical practitioners, we are nothing if not messengers of solidarity and hope," she added.
Davide Volpe, director of clinical education for the physician assistant program and an instructor of physician assistant studies in surgery, reminded the new students of what the essence of a white coat means to the physician assistant.
"The white coat symbolizes purity, innocence and hope," Volpe said. "Your coats are simple … what is essential is that the moral substance and character of the individual who wears it is what makes it so great."
"When you put on your white coat, you have the honor and obligation to make this world better," he said.